Thank you for your support of The Daily Promise during September. Your support is such an encouragement and means so much to me. I am so thankful for your financial gift. When you give, you become part of this ministry. We become partners in ministry. Together, we are taking the Word of God to thousands of people around the world.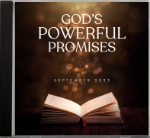 As a way of saying thanks, I am providing this recording of all the scripture promises we will cover in September. You can either listen on this page or download the recording to your computer or phone. That way, you can listen to the promises of God at any time.
Just click the download button below to download, or press the play button to listen online.
Either way, my prayer is that it is a blessing to you.
Thank you again for your support and God's richest blessings!
Billy Taylor
You can request a physical CD by emailing me at billy@dailypromise.com