Thank you for your interest in supporting The Daily Promise. Every day The Daily Promise shares God's Word to the nations. Just this year, The Daily Promise has encouraged Christians with the promises of God in 203 countries.
Your support helps keep me sharing the wonderful promises of God's Word.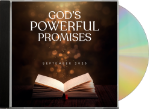 Every month, we cover about 20 promises from God's Word. Wouldn't it be great to have all those promises in one place? What if you could review all those promises by just listening to them? That's why I created God's powerful Promises.
I've taken all the promises we'll cover in September and recorded them with a music background. Plus, each scripture has a special confession to go along with the promise.
I'll send God's Powerful Promises to everyone who makes a gift of any amount in September. It's my way of saying thanks for your support.
God's Powerful Promises is available as an audio download or physical CD. Just let me know which one you want when you make your gift. (The CD is only available in the United States.)
To make a Donation by Mail
Send your check to:
The Daily Promise
PO Box 820505
Ft Worth, TX 76182
The Daily Promise is a ministry of Worshiphouse. Worshiphouse is a registered United States 501c3 organization.
For more information call 817.428.5994.