We Are Celebrating our Fifth Anniversary
God has blessed the ministry over these last five years. Here's a short video message from the founder, Billy Taylor.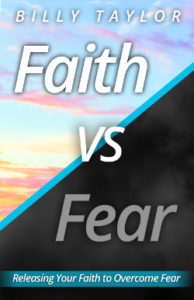 For everyone who makes an anniversary gift to the ministry, I will send you a teaching I just put together called Faith vs. Fear, releasing your faith to overcome fear. 
Right now, we are being bombarded with fear-filled messages about the economy, the potential for war, when the next pandemic may come, and the list goes on and on. I know Satan is working overtime to lure God's people into living in fear.
Again for everyone who makes a gift to the ministry, I'll send you a copy of the eBook and the audio version of Faith vs. Fear.
To make a Donation by Mail
Send your check to:
The Daily Promise
PO Box 820505
Ft Worth, TX 76182
The Daily Promise is a ministry of Worshiphouse. Worshiphouse is a registered United States 501c3 organization.
For more information call 817.428.5994.