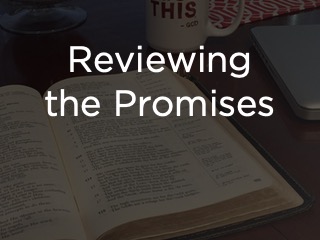 Saturday Review
February 9, 2019
Scripture Promises For the Week: John 10:10 | Psalm 37:25 | 1 Corinthians 10:13 | Psalm 84:11 | 2 Corinthians 7:17
Every Saturday we review the promises we learned during the week just to keep them close to our heart.
Monday, we looked at the Abundant life Jesus promised.
"The thief comes only to steal and kill and destroy; I came that they may have life, and have it abundantly." – John 10:10
Tuesday, we learned how God never forsakes His children.
I have been young and now I am old, Yet I have not seen the righteous forsaken Or his descendants begging bread. – Psalm 37:25
Wednesday, we claimed the promise of Victory over Temptation.
No temptation has overtaken you that is not common to man. God is faithful, and he will not let you be tempted beyond your ability, but with the temptation he will also provide the way of escape, that you may be able to endure it. – 1 Corinthians 10:13
Thursday, we saw how God is our sun, our shield, our grace and glory.
For the LORD God is a sun and shield; The LORD gives grace and glory; No good thing does He withhold from those who walk uprightly. – Psalm 84:11
Friday, we claimed the Promise of a new you.
Therefore, if anyone is in Christ, he is a new creation. The old has passed away; behold, the new has come. – 2 Corinthians 5:17
Confess this with me.
In Jesus Christ, I am a new person.
The old person is dead and gone, and I am alive in Him.
As a Child of God, when I look back on my life, I will see that He has never forsaken or abandoned me.
Today I have the abundant life Jesus promised.
I have heaven when I die, and overflowing life here and now.
I get tempted like everyone else, but every temptation has been limited by God and He has made a way to overcome it because He is my shield and my sun.
His grace and glory are poured out over me and He is not holding back one incredible blessed from me.
In Jesus Name,
Amen
That's it for this week. Sunday is the Lord's day, I hope you will be in a church worshipping the Lord and hearing His word.
I'll be back on Monday with a new set of God's promises for the week.
Since you will be at church tomorrow, could I ask you to tell your friends about The Daily Promise? If this program is a blessing to you encourage your friends at church to join The Daily Promise.
Which of this week's promises has been the most meaningful to you?
Let me know in the comments below.